Recipes with Traditional D.O.P. Vinegar

The recipes have been chosen for their simplicity, so that anyone can try their hand at even the simplest ingredients and fully appreciate the characteristics of Traditional Vinegar of Modena. Instead, they serve only as a stimulus for those who, for passion or profession, are able to always create new dishes and emotions. Good luck!
APPETIZER STRAWBERRY: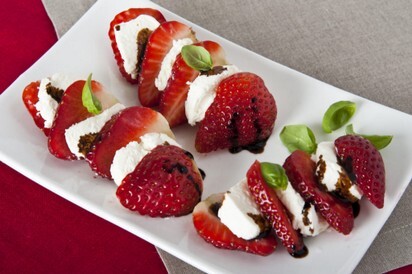 Finely chop 4 medium-sized strawberries, add 1 teaspoon of Balsamic vinegar and 1 teaspoon of sugar for each strawberry. Add 4 doses of Vodka and shake vigorously with a few ice cubes. Serve with a sprinkle of seltzer and a mint leaf.

SNACK " MODENESE " :
Cut the Parmigiano Reggiano into flakes and serve them together with a bowl containing Traditional Balsamic Vinegar. The flakes are dipped in Balsamic vinegar and tasted one by one.
RISE " MODENESE " :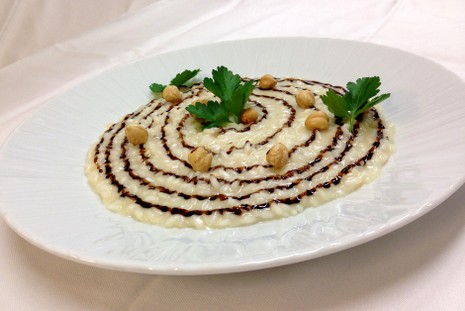 Cook a finely chopped onion with a knob of butter and a few tablespoons of water. Then add 400 grams of Carnaroli rice and a glass of white wine, and continue to cook, bathing often with boiling broth. Once cooked (after about 15 minutes), remove from the heat and stir in 50 g of butter and 80 g of Parmigiano Reggiano, together with 2 tablespoons of Traditional Balsamic Vinegar. Let the rice rest for a few minutes and serve again, mixing a few drops of Balsamic vinegar directly on the plates.
SALAD " MODENESE " :
Season, even together, the different varieties of salad or radicchio of the season with Balsamic Vinegar and salt as required, then mix well adding extra virgin olive oil. Mix well and serve as a side dish to main courses (or as an appetizer by adding flakes of Parmigiano Reggiano and slices of Modena Ham).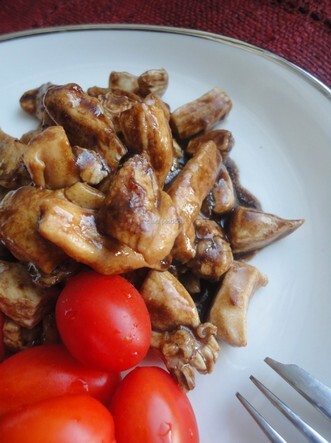 LOUIS CHICKEN :
Cut the chicken into pieces by carefully removing the skin. Place the pieces in a container together with half a tablespoon of Balsamic vinegar for each piece and marinate the chicken for at least half an hour. Then cook the chicken in the oven or on the grill, brushing it occasionally with an infusion of oil and garlic. Add salt as needed and serve with salad or various sauces and a few drops of Traditional Vinegar.
ROAST OF PORK WITH MEROLA
:
Take 2-2.5 kg of ham rump, inject half a glass of cognac with a syringe, then add rosemary, garlic and salt. Wrap in aluminum foil and keep everything in the oven at 180 degrees for about 2 hours. Remove from the oven and brush with Traditional Balsamic Vinegar. Rewrap in aluminum foil and leave in the oven for about 15 minutes, then serve hot with a side of green salad or baked potatoes.
RABBIT :
Cut the rabbit into pieces, add a glass of strong vinegar, a clove of garlic and 2 tablespoons of chopped parsley. Cook slowly with the lid closed for about 15 minutes. Then add 50 cc of Traditional Balsamic Vinegar and 1 tablespoon of chopped parsley; complete cooking without lid (15 min.) over low heat and stirring often. Serve the rabbit, which will be black and sweet and sour, with a field radicchio salad.
GRANDMA'S ROAST-BEEF: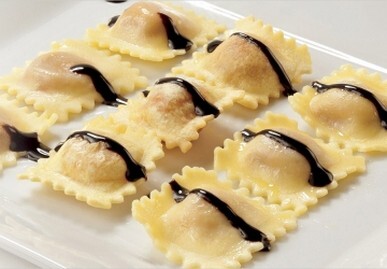 Tie a sirloin of beef or round of about one kilo. In an oval pan with a high edge, bring extra virgin olive oil with 2 bay leaves to temperature, then brown the piece of meat on one side, salt it, then repeat the operation on the other side. When the meat is considered sufficiently cooked, add the Balsamic vinegar (three tablespoons), turn the meat again and turn off the heat. Before serving the machine-sliced ​​meat, heat the dark cooking sauce and sprinkle the thin slices directly onto the serving dish.
MEAT AT SAN PIETRO:

Dice 4 tomatoes, brown them for about 3 minutes in melted butter (4 tablespoons) and set aside. Flour the veal slices by cutting the edges to avoid curling during cooking. Then brown them in the same butter as the tomatoes, three minutes on each side; then add salt and pepper to taste. Add the tomatoes and cook for about 2 minutes on each side. Pour a spoonful of Balsamic vinegar into the pan, continuing to cook for 3 minutes on each side, then serve garnishing the dish with sprigs of thyme.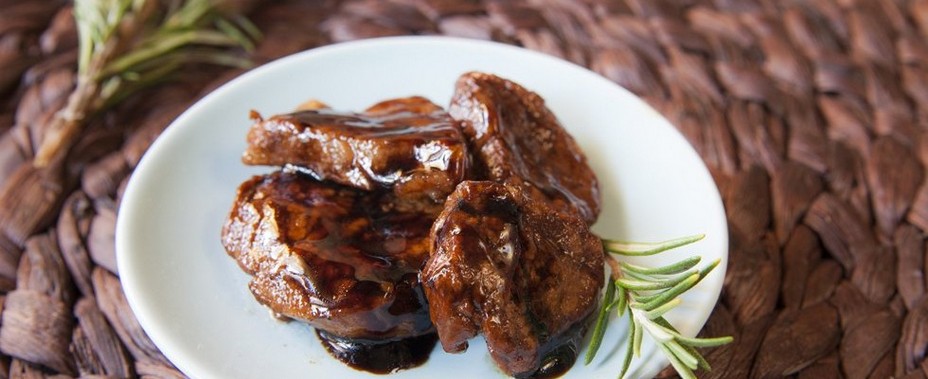 STEAMED TUNA:
Dilute concentrated tomato in a pan with oil and a pinch of salt. Mix for a moment on the fire, then add the tuna (80 g per person) drained of its oil and broken into slices as thick as a finger; then add a handful of capers and Traditional Balsamic Vinegar (one teaspoon per person). Cook over very low heat for two hours, adding a drop of water from time to time, but without stirring; shake the pan often to prevent the tuna from sticking to the bottom. Boiled potatoes will be a great side dish.
GRANDMA'S FRITTATA:
Prepare a mince of coarse salt, rosemary, a clove of garlic, a little sage and basil. Combine ten eggs and beat well. Separately, brown a nice onion cut into slices in a pan, then separate it from the oil and put it together with the beaten eggs, continuing to mix everything. Bring the oil previously used with the onion to a boil, and pour the mixture with the eggs, paying attention to cooking which will be fast. Brown both sides of the omelette. Serve the omelette in wedges by sprinkling a teaspoon of Balsamic vinegar on each portion.
MIRELLA STRAWBERRIES: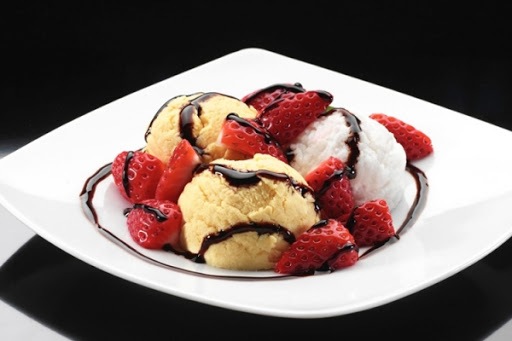 Cut the strawberries into slices. For each basket (about 250 gr.) Add 2 tablespoons of Balsamic vinegar and 2 of sugar. Mix and put in the fridge. Stir again after about an hour and leave to marinate for 3-4 hours. Serve in small bowls with a mint leaf, or serve strawberries with cream ice cream, adding a few more drops of Traditional.
PEARS:
Serve duly peeled pear wedges together with Parmesan flakes and under abundant drops of Traditional Vinegar.
BALSAMIC ICE CREAM:
Serve the ice cream (Fior di Latte or cream) in bowls pouring 1-2 teaspoons of Balsamic vinegar on each portion.